An Investment Towards A Clean Future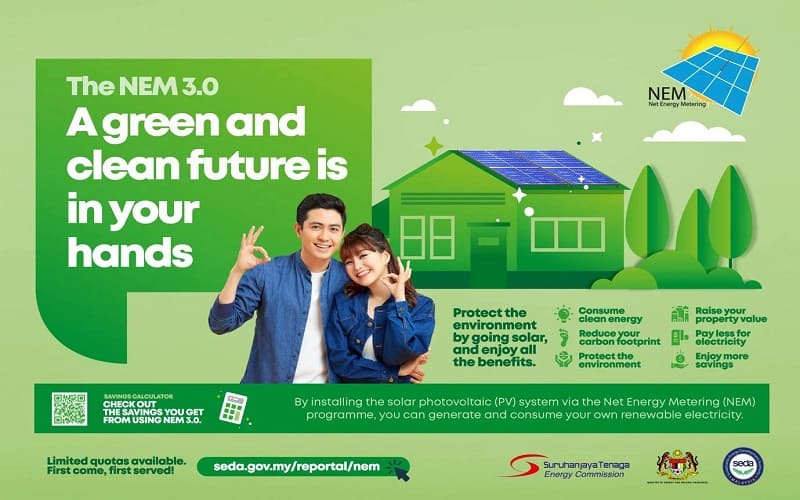 21/02/2022
If you have been thinking of exploring the clean energy option for your home or building, now is the right time to do it. The recently concluded COP26 or the United Nations Climate Change Conference saw countries worldwide pledge to reduce their carbon emission, particularly through the renewable energy transition. Malaysia also commits to being a carbon-neutral country at the earliest in 2050, with the renewable energy (RE) target set to 31% installed capacity mix by 2025 and 40% by 2035.
In supporting the set target, the Government has introduced several programmes to encourage the transition, such as the Feed-in Tariff (FiT), Large Scale Solar (LSS), and Net Energy Metering (NEM), among a few.
Introduced in 2016, the NEM mechanism utilises solar resources for energy generation through the rooftop solar PV panel. On 1st January 2019, the improved NEM 2.0 was launched by adopting the true Net Energy Metering concept where it allows excess energy generated from the solar PV to be exported back to the grid on a "one-on-one" offset basis. The one-on-one offset means every 1kWh (1 unit of electricity) exported to the grid will be offset against 1kWh consumed from the grid with gazetted tariff. The export charges are levied in descending order starting from the highest to the lowest applicable tariff rate.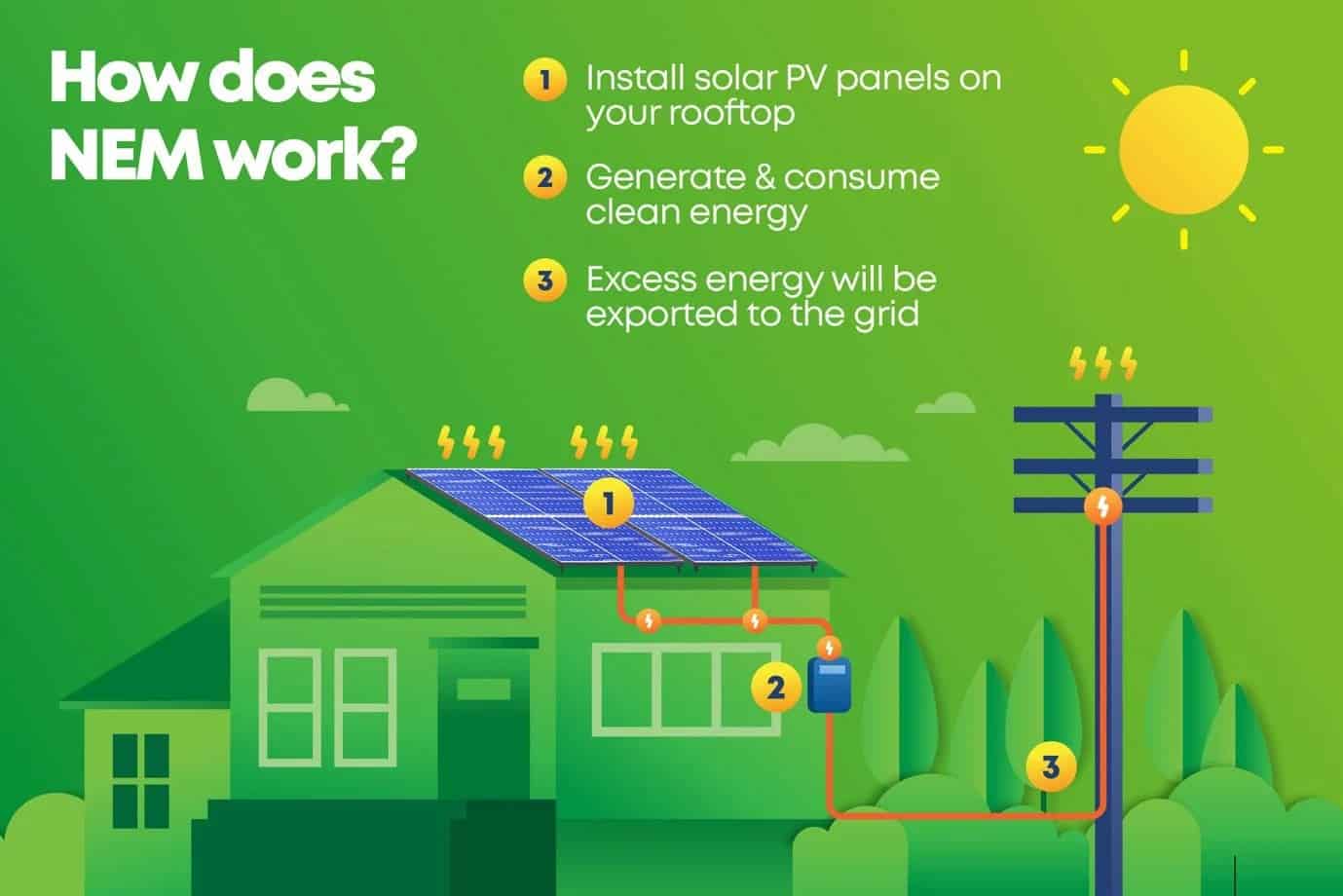 The mechanism is an excellent investment for homeowners to explore as it enables electricity consumers to generate and use the electricity from the rooftop solar PV, allowing them to play an active role in RE generation. The energy generated from the solar PV system ensures that consumers utilize energy from clean energy resources, which helps to reduce the carbon footprint and protect the environment.
The Sustainable Energy Development Authority (SEDA) Malaysia, the implementing agency for the NEM Programme has developed a NEM calculator to help public get the estimates on the cost of installing a solar PV system and the savings enjoyed.
Currently on its third adaptation, NEM 3.0 was launched on 1st February 2021 and will run until 31st December 2023. Originally, 500MW quota was offered for the three categories - NEM Rakyat, 100MW; NEM Government Ministries and Entities (GoMEn), 100MW; and Net Offset Virtual Aggregation (NOVA), 300MW. The Government later announced an additional 300MW for NOVA due to its overwhelming response.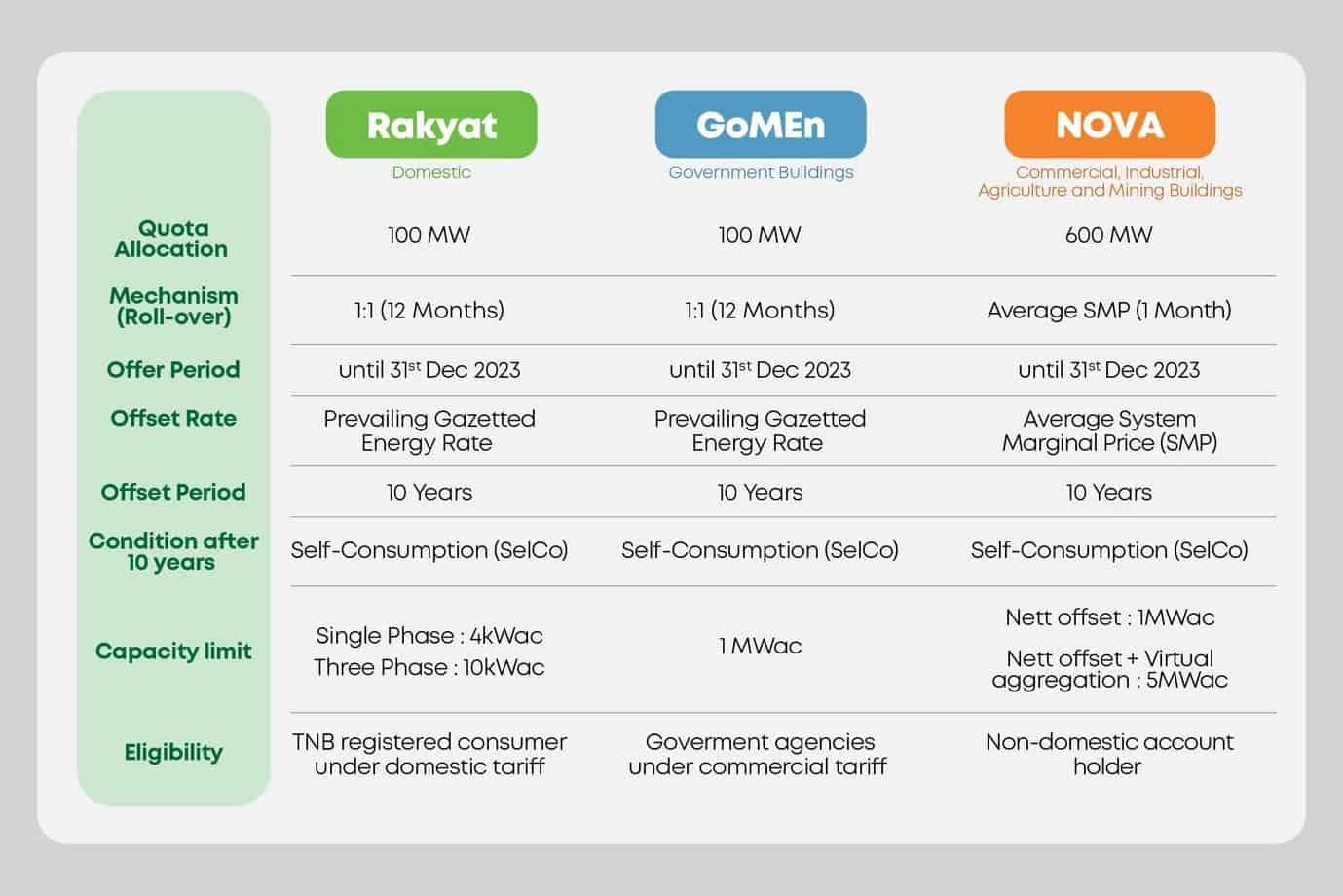 The rooftop solar PV has been recognised as one of the driving forces for solar PV growth globally. Countries such as Japan, India and China have adopted national rooftop PV programmes to support rooftop PV growth. Referring to the Malaysia Renewable Energy Roadmap (MyRER) that was recently released, Malaysia is anticipated to have approximately 42GW of rooftop solar PV resource availability from 4.6 million buildings and 43 university campuses.
The potential, coupled with Malaysia's strategic location near the equator whereby we received high solar irradiance all year round, makes the NEM mechanism an ideal programme that could potentially provide sustainable positive return for its users and the country.
Source: The Edge Markets