The Supply Agreement with Renewable Energy (SARE) is a tripartite agreement between an investor (GSPARX), a billing agent (TNB) and customer. It is a programme offered to eligible Commercial & Industrial customers with the intention of offering a lower tariff than the grid tariff. After the installation of the solar panels, customers will need to pay GSPARX only for the solar energy generated at a lower solar tariff. Moreover, all monitoring and maintenance will be taken care of by GSPARX throughout the contract period.
The Supply Agreement of Renewable Energy (SARE) of Malaysia is an agreement for supplying renewable energy in Malaysia.
According to the Minister of Energy, Science, Technology, Environment and Climate Change (MESTECC) YB Yeo Bee Yin, SARE allows consumer to enjoy solar energy generated by the solar system installed at their premise without the need to pay for the system.
What are the benefits of SARE?
SARE makes green energy accessible to businesses by allowing investors to fund & own on-site renewable energy generation on prosumers' premise.
Under the SARE agreement, customers can enjoy zero upfront cost when installing Solar PV panels, immediate electricity cost savings as well as zero maintenance work including monitoring and repairing during contract period.
Who can benefit from SARE?
Businesses and government entities (non-residential customers) in Peninsula Malaysia.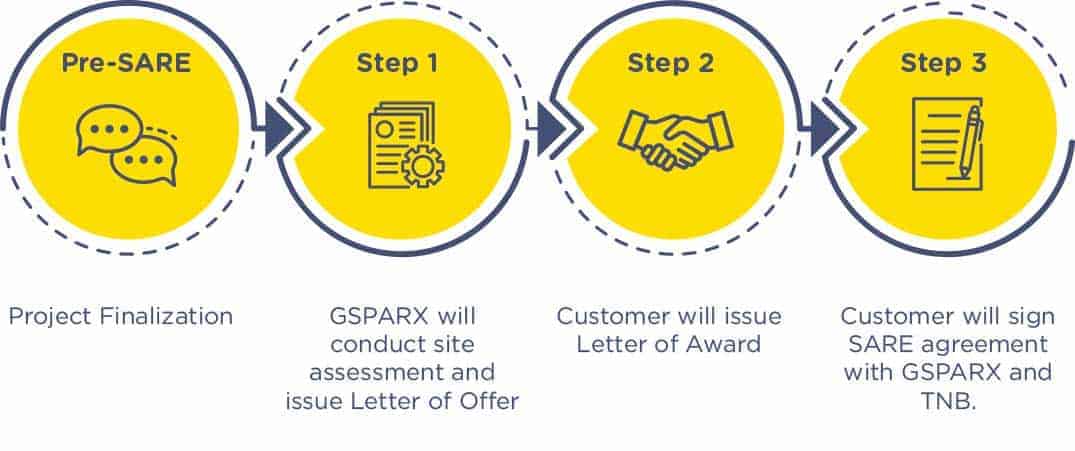 Post SARE: Project Execution
It will take 4 to 6 months from SARE agreement signing for system to be in operation depending on the size of the project. In this period of time, the project would undergo internal process & detail engineering, authority application & approval, procurement of PV panels and inverters, mobilization & installation. After PV Installation, GSPARX will coordinate with TNB network for meter installation. Once the installations are completed, TNB's billing will commence upon PV system commissioning according to billing cycle until contract ends.