Let's Protect Your Solar PV
Solar PV technologies are developing at an ever-increasing rate and are increasingly cost efficient in electricity generation compared with conventional energy sources.
Anora Agency have been supporting the solar PV industry in Malaysia with a comprehensive set of insurance solutions.
As a residential solar PV owner, you can now protect your investments and assets with SolarPro.
Insurance for Residential
1)All Risks Protection
The   SolarPro   All   Risks   Insurance protects against loss of or damage to the solar PV system insured or any part thereof due to:
Malicious damage

Accidental damage

Theft

Lightning damage

Riot, strike

Aircraft and other aerial devices (such as drone) or articles dropped

Landslip / landslide
Fire, explosion

Hurricane,   cyclone,   typhoon,   windstorm

Flood

Impact   by   road   vehicles   or animals

Bush or lalang fire

Bursting   of   water   pipes   and   overflowing   of water tanks
2)Hassle-Free   Repair   &   Restoration
Ready   network   of   authorised   service   providers   to   reinstate your solar PV system and get it up and running again
3)Income   or   Savings   Protection
Protects against the loss of income (FiT) or savings (NEM / Self-Co) due to indemnifiable damages to the solar PV system (e.g. panel, inverter, cable, etc)
SolarPro Plans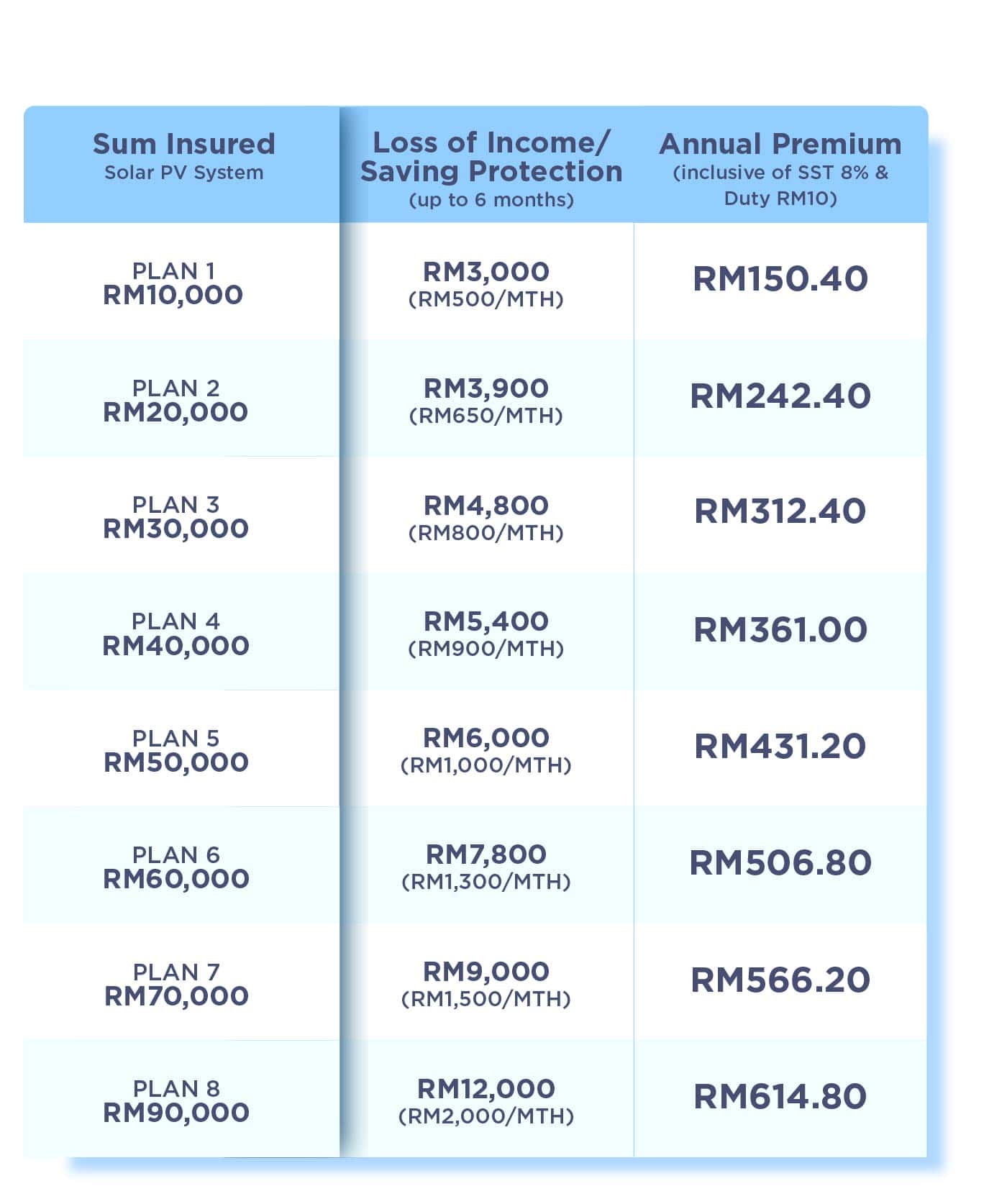 Let our consultants assess your needs
Insurance solutions from Anora Agency Sdn Bhd, underwritten by Allianz General Insurance Company (Malaysia) Berhad