EMBRACE SOLAR ENERGY WITH GOVERNMENT SOLAR SOLUTIONS
Be a role model by doing your part in boosting the uptake of solar energy in our country.
Support the goal towards sustainable development and make the switch today.
CATEGORY OF ELECTRICITY CONSUMERS UNDER NEW GoMEn
Ministries, departments or statutory bodies established by the government at all
levels of administration, whether at the federal, state or district levels, including
local authorities who are the electricity consumers under the commercial tariff.


School/Educational institution
Military
Hospital
Public universities, commercial premises owned by state government
Government agencies
Other government installation
See How Much You Could Save!
Use our solar calculator to help you work out your
potential monthly savings.

When you go solar under the NEM GoMEn (Government Ministries and Entities) Program, it allows you to sell excess electricity generated by your solar panels system back to the grid at a "one-to-one" offset ratio. Now, you can really start saving on your electricity bills.

Guaranteed Performance
For 25 Years
It is indeed true that the amount of electricity a solar panel produces declines slightly every year. However, panel manufacturers are able to guarantee that the panels will not lose more than 10% - 20% of their power output capacity over the first 25 years.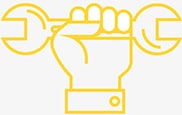 Installing solar panels is a smart investment as they rarely require maintenance or repairs. On top of that, most solar panel companies offer warranties or service contract with solar panels system owners that state they will come out and fix any issues at no additional cost to the owner.
We Have The Solar Financing
Options You Need
Giving Back to the Environment
As compared to fossil fuels, solar energy is no doubt the more favourable option because it reduces our carbon footprint and greenhouse gases around the globe. Since the sun provides us with a free, abundant and renewable power, we should all invest in this source of energy which benefits the environment.
Let us help you to find out your potential savings!