REMARKABLE REDUCTION THROUGH THE ROOF
Reduce your electricity bill and invest your savings for higher business profitability
PROSPER WITH ECO-FRIENDLY ROOF
Be a responsible corporate citizen by doing your part in preserving mother nature. Think
long-term and switch to a more sustainable source of energy. Green technology is the way
to create an eco-friendly future for the generations to come.
Enjoy Double Tax Incentives When You Go Solar
Don't miss out the benefits the government is offering!

Under the CAPEX model for Solar Deployment, the user purchases and owns the rooftop solar system. In other words, they will pay for the entire capital expenditure for the installation of the system. This model allows users to own the system as well as claim tax and depreciation benefits.

Capitalize on Incentives: Double Tax Allowance
To boost the Malaysian green economy, the Malaysia government has introduced double tax incentives for companies that undertake qualifying green technology projects for business or own consumption. The tax incentives offered are Capital Allowance (CA) and Green Incentive Tax Allowance (GITA)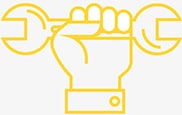 Installing solar panels is a smart investment as they rarely require maintenance or repairs. On top of that, most solar panel companies offer warranties or service contracts with buyers that state they will come out and fix any issues at no cost to the buyer.
We Have The Solar Financing
Options You Need
Your Home, Your Energy
Giving Back to the Environment
As compared to fossil fuels, solar energy is no doubt the more favourable option because it reduces our carbon footprint and greenhouse gases around the globe. Since the sun provides us with a free, abundant and renewable power, we should all invest in this source of energy which benefits the environment.